UT High School District
UT High School District is an accredited, public online high school district that offers online courses and credit by exams to students who want to attend full-time to earn a high school diploma or take one course or credit by exam while enrolled at another school district. We also offer special programs and services to support students, educators, and schools across Texas and beyond. The UT High School District full-time diploma programs include UT High School for Texas residents, UT International High School for non-Texas residents, and UT High School Empower Academy for adult learners.
UTHS is ranked #2 of the 25 Best Online High Schools (bestcollegereviews.org)!
Students
Students in the UT High School District come from many walks of life. Our diverse student body includes students who are:
engaging in professional careers, such as actors and models
competing in elite athletic programs
being home-schooled
living in remote locations
taking courses to accelerate their education
seeking flexibility in their schedule
taking NCAA approved courses to meet eligibility requirements
looking for an independent, off-campus high school experience
children of active military parents
participating in school at an older age
Demographics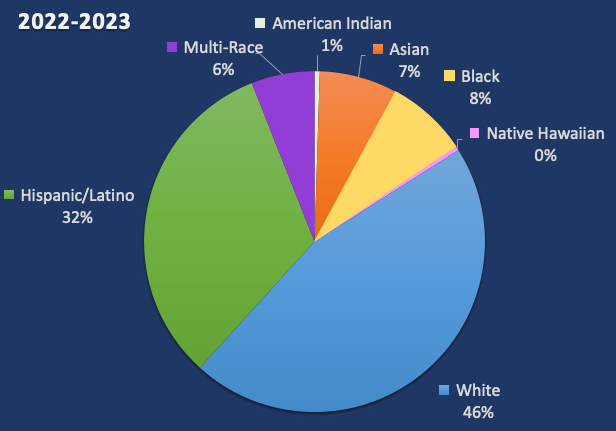 Enrollment
Our program provides the flexibility for students to earn their diploma in a way that meets their personal needs. Annually, there are more than 6,000 students enrolled in full-time Diploma Programs or part-time online courses, over 29,000 students completing credit by exams, and more than 300 partner school districts utilizing specialty services for students provided by the UT High School District.
UTHS Graduates' College Acceptance
After graduation from our UTHS Diploma Programs, our students engage in college, career, and military pursuits. Although not exhaustive, the following list shows institutions where UTHS graduates have been accepted.
Colleges
The University of Texas at Austin, The University of Texas at Dallas, Knox College in Illinois, University of Washington, University of North Texas, University of Oklahoma, University of Tennessee, Texas State University, Pratt Institute, University of Houston, University of Louisiana, New York University, Savannah School of Art and Design, University of Arizona, Texas Tech University, The University of Texas at Arlington, University of Dallas, Chapman University, American University in Cairo, North Dakota College, Laguna College of Art and Design, Arizona State University, Rice University, The University of Texas at Tyler, Texas A & M University, University of California at Los Angeles, Massachusetts Institute of Technology, Berklee College of Music, Pace University, University of Hawaii, West Texas A & M, University of New Hampshire, Texas Lutheran College, Concordia University, University of North Carolina Chapel Hill, University of Massachusetts-Amherst, University of Alabama, Embry-Riddle University, St. Edwards University, University of Brighton, University of Findley, The University of Texas at San Antonio, University of Central Florida, Tarrant County College, San Francisco City College, Pennsylvania State University, St. John's University, University of Georgia (Atlanta), University of South Wales, Drexel University, Iowa State University, University of Colorado, Pepperdine University, Fordham University, Loyola Marymount University, Oregon State University, Sam Houston State University, The Julliard School, Southern Methodist University, Baylor University, Colorado School of Mines, University of Oregon, The University of Manchester, The University of St. Andrews, Clemson University, Texas Christian University, Florida State University, University of Amsterdam, Northern Arizona University, Ohio State University, Mississippi State, Louisiana State University, Purdue University.
Staff
The UT High School District staff is led by Superintendent Dr. Beth Cooper who has more than twenty-five years of experience working as a Texas-certified administrator and teacher in Texas public schools. Curriculum design for all UT High School courses, exams, and support services is led by our team of administrators, coordinators, specialists, and teachers with certification and expertise in their subject areas. Each year, we work with expert teachers across Texas to revise and develop new curricula to ensure our courses and exams are written by those with extensive experience teaching students in the subject areas. We believe great content plus well-designed instructional strategies remain critical to student success. Our support staff members believe that providing high-quality customer service via online and phone support to students, parents, and educators remains essential.
Accreditation
In 1998, the Texas Board of Education authorized UT High School to provide a high school curriculum and award diplomas. The University of Texas at Austin High School and The University of Texas at Austin International High School are Texas public schools within the UT High School Special Purpose District (TEC §11.351), which opened in 1999. We adhere to Texas state requirements and policies for public education.
We currently offer more than 75 online courses and credit by exams, including English, social studies, mathematics, science, world languages, health, physical education, economics, and electives. We also offer Honors and Advanced Placement (AP) course pathways in all core subject areas. Curriculum experts design our courses to align to the Texas Essential Knowledge and Skills (TEKS) and course credits easily transfer for credit in other school districts. Core courses are NCAA approved and AP courses are approved by the College Board.
UTHS is celebrating 23 years of innovative, online courses for students!