UTHS for Military-Connected Students
The University of Texas at Austin High School offers a unique opportunity for military-connected students in grades 9-12 to continue their Texas public school education remotely in an online high school after an active military parent transfers or deploys and the student must move out of Texas.
The 87th Texas Legislature passed HB 4124 in 2021, which allows UT High School to receive state funding for military-connected students and prioritize these students during enrollment or creation of a waitlist for enrollment. Students who meet eligibility criteria may enroll at UTHS with free tuition.
Our Commitment
The University of Texas at Austin High School District Advisory Board adopted a Resolution for the Support of Military Children and Families because at UTHSD we understand when parents serve, their families do too, and we commit to providing an online education and support for military-connected students.
Military-connected students move an average of 6-9 times during their K-12 education and experience disruptions to their instruction (Military Child Education Coalition, n.d.). Often these changes occur with short notice, which prevents students from submitting applications for school enrollment by typical annual enrollment deadlines. At UTHS we provide priority access to military-connected students in our online virtual school program as a strategy of support to level the playing field.
Military-Connected Student Representation at UTHS
UT High School military-connected students represent over 10% of both the TX Diploma and International Programs. The majority of UTHS military-connected students are dependents of veterans of the US Military, TX National Guard or a Reserve force.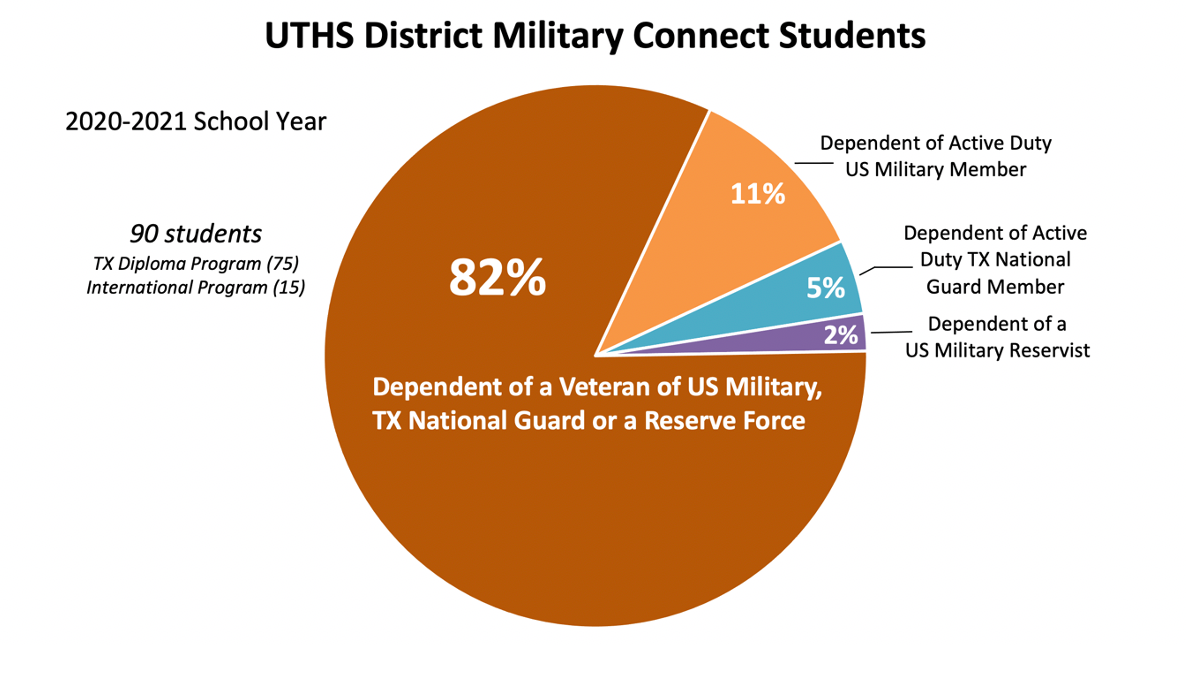 Enrollment and Registration
Students and families have a range of Program options for enrollment at UT High School. District policies for each enrollment type may be found in the  UTHS Student and Family Handbook, and families may view the UTHS Calendar for important dates.
UT High School is aligned with the mission of the Interstate Compact on Educational Opportunities for Military Children to strengthen transitions and close educational gaps as military families and their children move to a new school district or state. Therefore, UTHS accepts Permanent Change of Station (PCS) orders as part of the enrollment documentation for military-connected students. Review the complete list of Enrollment Requirements prior to gathering necessary documentation for enrollment.
Free Tuition Eligibility
A military-connected student is eligible for enrollment in UTHS with free tuition if the student:
is a dependent of a member of the United States military;
was previously enrolled in school in this state; and
does not reside in this state due to a military deployment or transfer.
Priority Access
UTHS offers priority access to military-connected students who meet the state requirement for tuition free funding after they leave Texas.
Program Benefits
High school students can enroll in UTHS's virtual school to continue their Texas education program and earn a Texas high school diploma. Students enrolled at UTHS can:
complete all of their remaining high school credit courses online from any location
transfer your credits from your prior Texas public school to UTHS
select from a wide variety of rigorous online courses
engage in honors, advanced placement, or dual credit online courses
communicate online with experienced, Texas-certified teachers
obtain guidance from counselors for college, career, and military pursuits
receive personalized tutoring from UT college student tutors
Full-Time Online High School Diploma Programs
Free Tuition for Texas Residents
The UT High School full-time Diploma Program offers free tuition for Texas residents for the fully online, remote asynchronous program. 
Tuition-Based Program for Non-Texas Residents
The UT High School full-time International Diploma Program offers a full high school program to students living out-of-state or international locations. 
Military Connect Support Services
UT High School provides a team of support for military-connected families. Please direct questions to your program's Military Liaison or one of our counselors. Visit our UTHS Staff Directory webpage to meet the rest of our team.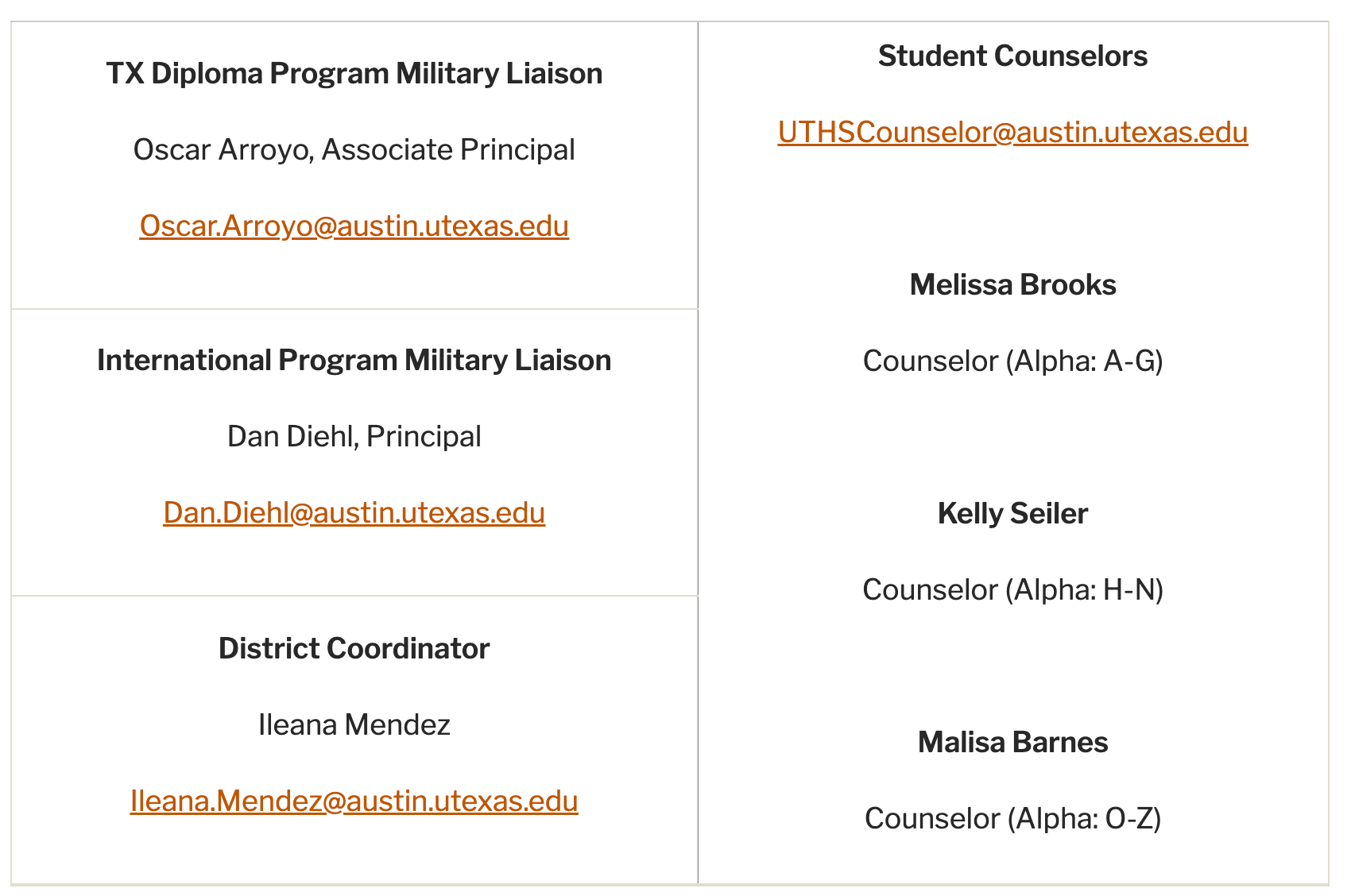 Academic Planning
UT High School offers a variety of Course Offerings which include Honors and Advanced Placement options. Our counseling team can review these offerings, including the most current Course Pacing Guides and their corresponding Course Material Lists with current and prospective students and their families.
Transition Supports and Resources
Prospective students and families can join one of our live informational Wednesday Webinars from 11:30 AM - 12:30 PM (CST) to learn more about the program. There will be opportunities to submit questions online during the webinar. The webinar provides an introduction to our unique online school environment and reviews enrollment requirements and programs. In addition to advanced coursework, UTHS offers individualized synchronous online tutoring for students to support academic success. Students will have leadership opportunities at UT High School and a voice in program development. The Summer 2022 UTHSD Student Symposiums gathered student feedback on extracurricular activities/clubs to be offered for the 2022-2023 school year. 
Resources for Military-Connected Students and Families
Military Child Education Coalition (MCEC) 
MCEC for Parents  |  MCEC for Students  |  MCEC SchoolQuest tool
UTHS engages with the Military Child Education Coalition (MCEC) to learn about and support military-connected students. The MCEC website includes a variety of resources for students, parents, and educators, such as informational webinars, parent support workshops and SchoolQuest Tool. 
Texas Education Agency 
This section of the TEA website provides information about Texas schools, graduation requirements and links to other military-connected student and family sites of interest.   
Military.com 
The eKnowledge Donation Project with Military.com waives the complete $350 course price for the SAT or ACT Test Prep Programs, so you only pay the $19.99 student fee (Standard All Access Program) or $49.99 fee (Premium All Access).  
Military One Source
Military Life Cycle - Separation & Transition 
Non-Medical Counseling Supports 
Military OneSource provides information in a variety of areas, including military separation and transitions, non-medical counseling and family and relationships. This site details what you need to have a smooth military separation and a successful return to civilian life. Family can access non-medical counseling 24/7 and resources for military spouses and children.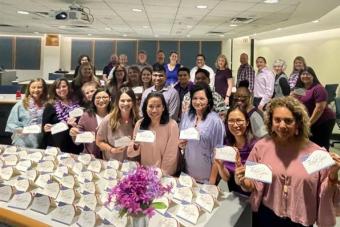 UTHS Honors Veterans
Military Connect Newsletters