UT High School 
Special Purpose District
The University of Texas at Austin High School Special Purpose District is a state-approved public school district that offers virtual high school programs and specialty services for students and partner school districts in Texas and beyond. We opened in 1999 and we're celebrating 24 years of online education! We offer award-winning courses designed by Texas-certified specialists and teachers that meet required state of Texas and College Board standards. Our students consistently achieve high expectations on state, Advanced Placement, and SAT/ACT exams. It's our goal to ensure our program provides the rigor and support students need to be successful for a bright future in college, career, or military pursuits.
Virtual High Schools
The UT High School Special Purpose District (UTHSD) offers two high schools to serve Texas residents and non-Texas residents in full-time or part-time course instruction. The UT high schools provide a comprehensive catalog of online courses aligned to state standards to support full-time students to earn their high school diploma and part-time students opportunities to supplement their coursework with flexible timelines. The UT High School teachers and specialists design and deliver online course curriculum for on-level, honors, and Advanced Placement® course subjects delivered in an  asynchronous format. Specialty webinars and support services assist learners to achieve success. Specialty programs at UTHS include the P-TECH Early College High School for full-time Texas students,  the Empower Academy for Texas adults to complete their high school diploma or high school equivalency (GED), and opportunities for students to complete dual credit coursework. To learn more about the UTHSD virtual school student programs, login to a webinar for prospective students and parents every Monday or Wednesday through September.
Monday Webinars for Prospective Students and Parents: 5:30 PM - 6:30 PM (CDT)
Wednesday Webinars for Prospective Students and Parents: 11:30 AM - 12:30 PM (CDT)
School Partnerships & Services
The UT High School Special Purpose District engages in partnerships and provides services to support school districts with curricula, assessments, and professional development. UTHSD helps school districts launch their own full-time virtual academies with UTHSD's online courses, develops K-12 credit by exams that align to Texas standards to help students recover credit or accelerate, and provides professional development to support teachers and leaders to improve their skills in topics such as blended learning, Project-Based Learning, gifted and talented strategies, and Advanced Placement® Institutes. To learn more about opportunities for school district partnerships and services, contact UTHSpartner@austin.utexas.edu.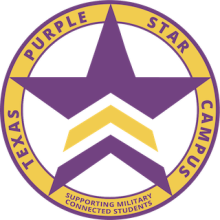 Our Mission
To improve outcomes for students, educators, and school districts across Texas and beyond, by creating innovative learning experiences and providing strategic support services.