About
The Migrant Student Graduation Enhancement Program strives to meet the special needs of Texas migrant high school students through the flexibility of distance learning. Migrant students can stay on track for on-time graduation by earning high school credits in the program's courses and exams.
Each year, we present at the annual Association of Migrant Educators in Texas (AMET) conference and offer webinars to share strategies with educators in Texas school districts and with interstate partners.
Reverse Deficit Thinking by Using Flexible Academic Strategies, Texas Migrant Interstate Program, McAllen, TX, 2017.
Migrant Services Webinar, February 2016.
Services
Online courses
Print-based courses
Course curriculum resources for educators
Credit by Exams
Noncredit courses for support
STAAR prep
Field trips
Who
Migrant students who have frequent absences due to work schedule and family relocation
Migrant students who start the course in one location and need to finish it in another
Benefits for Students
Flexible course formats (online, print, or a combination)
Flexible course timeline
Credit recovery
Credit acceleration
On-time graduation
Benefits for School Districts
Reduce student dropout rate
Improve student graduation rate
Potential School District Funding Sources
Title I, Part C
Title III - Bilingual
District/campus general funds
*Please contact the TEA for guidance regarding funding sources.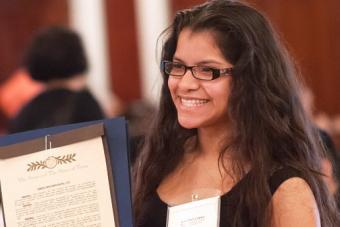 Contact Us
Email:
UTHSpartner@austin.utexas.edu
Phone:
512-232-3503
* Please follow FERPA rules (first name and first initial of student last name) in email communication